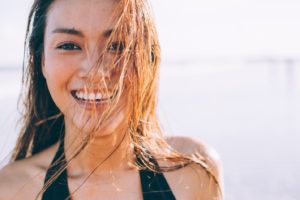 Sunlight comes with several well-documented health benefits. For example, it can increase levels of the feel-good hormone serotonin. UV therapy has even been used to treat several skin conditions. But can the summer sun also benefit your smile? Yes. Let's talk about how spending more time outside may promote healthy gums.
Vitamin D and Gum Health
Vitamin D serves numerous important functions in the body. For example, it aids with calcium absorption and thereby promotes strong bones and teeth. It can also play a role in mood enhancement, healthy pregnancies, and lowering the risk of several systemic disease.
Additionally, vitamin D is vital for immune system function. It has been shown to have anti-microbial and anti-inflammatory benefits. When you get enough of this nutrient, your body is better equipped to fight off gum disease and other oral infections.
Staving off gum disease, in turn, comes with systemic health benefits. In fact, a 2015 paper even found that insufficient vitamin D levels, diabetes, and gum disease all appear to have significant associations with one another.
How to Get Enough Vitamin D
You can get vitamin D through food sources, such as fortified milk, oily fish, and red meats. However, one of the best ways to get it is through exposure to sunlight. When the sun hits your skin, the UVB rays interact with a protein in your body, converting it into the active form of Vitamin D.
Exactly how much sun you need to get adequate vitamin D depends on numerous factors. In general, though, it takes about 10 – 30 minutes of midday exposure several times a week to maintain acceptable levels of this nutrient. If you have dark skin, or you are elderly or obese, you might need to spend a bit more time outside.
Of course, it is important not to overdo it. Spending too much time in the sun can increase the risk of burns, skin cancer, premature aging, and other issues. You should always wear sunscreen; even though it is designed to block UVB rays, most adults do not wear enough to stop all of the sun's vitamin D-producing benefits. In fact, an Australian study found no significant difference in vitamin D levels between adults who used a sunscreen and those who used a placebo cream.
Enjoy a Healthy Summer Smile
Of course, spending enough time in the sun is just one thing you can do to keep your mouth healthy. You should also eat a balanced diet, visit your dentist for routine checkups, and monitor your mouth for any potential signs of gum disease or cavities. Your diligence will keep you smiling summer after summer!
Meet the Practice
Dr. Bryan Griffith and his associate, Dr. Alex Hartgrove, are proud to provide general dentistry services for the Prestonsburg community. Patient comfort is one of their top priorities, and they are always willing to answer questions about how you can best care for your teeth and gums. If you would like to speak to them about anything related to oral health, contact our office at 606-874-9311.