Preventive Dentistry – Prestonsburg, KY
Stop Problems Before They Begin
The best type of dental problem is the one that never develops, which is why Dr. Griffith places such an emphasis on routine preventive dental care for every patient. With the services listed below, he can help patients prevent small issues from becoming large, expensive problems. Research continues to prove that your oral health affects your whole body. It's our goal to help you maintain a healthy mouth so you can enjoy overall wellness for years to come. If you're ready to take a proactive approach to your dental care, then schedule an appointment at Brookside Dental Care today.
Dental Checkups & Professional Teeth Cleanings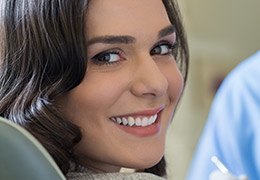 Checkups and professional cleanings enable us to accomplish many important things in one appointment. They give our team the chance to learn about a patient's overall dental health, plus Dr. Griffith is able to examine the mouth to detect and treat small problems or diseases during their earliest stages. During a dental cleaning, we remove harmful plaque and tartar from the teeth and gums as well as remove minor surface stains. We recommend that everyone comes in at least every six months for checkups and cleanings to achieve and maintain optimal oral health.
Nightguards for Teeth Grinding and Clenching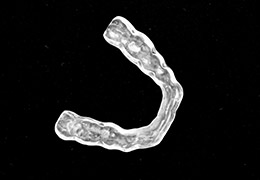 Do your teeth look like they've been worn down or do you ever wake up with a sore jaw muscles or headaches? If so, you might be experiencing bruxism, or nighttime teeth grinding. According to research, this condition is believed to affect about 1 in 3 people in the U.S., but thankfully, treatment is relatively easy. Dr. Griffith can recommend a nightguard that you wear while sleeping. This is a small, custom-made mouthpiece that places a protective barrier between the teeth to prevent any harmful contact during sleep.
Oral Cancer Screening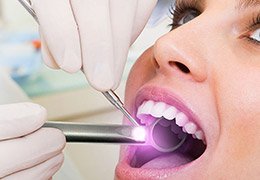 Oral cancer is an often fatal disease that is actually very treatable when detected early. Dr. Griffith includes a full oral cancer screening as part of every routine checkup. We examine the mouth and surrounding areas for any signs of cancerous or precancerous tissues, and should anything be detected, we can help a patient quickly get the follow-up care that they need. The screening itself only takes minutes, but it can literally help save someone's life.
Fluoride Treatment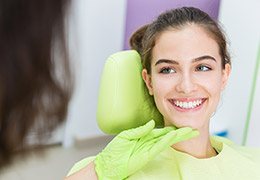 You'll find fluoride added to many toothpastes and community water sources because regular exposure to this mineral has long been shown to help strengthen the teeth against tooth decay and cavities. However, due to the growth in popularity of non-fluoridated bottled water, more and more people are not getting enough fluoride daily to keep their smile fully protected. This is why Dr. Griffith is happy to include a topical fluoride treatment as part of a patient's regular appointments. It's quick, it's easy, and it's one of the best ways to prevent cavities year after year. Fluoride also aids in sensitivity relief when used on a regular basis.
Homecare Products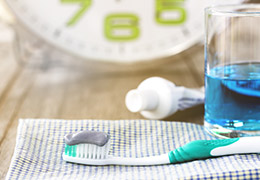 While dental appointments are great, 99% of your dental care actually occurs at home with regular brushing and flossing. As you can imagine, this means that the products you use every day are extremely important to your long-term oral health. Are you using the right ones? Our hygiene team is happy to recommend which dental products are suited for your specific needs by providing you with a personalized home care regime. As needed, we provide many prescription strength products that you won't find on store shelves.