Restorative Dentistry – Prestonsburg, KY
Enjoy a Full & Healthy Smile Again
Do you find yourself hiding your smile because of chipped, cracked, decayed, or missing teeth? If so, you're not alone, and Dr. Griffith and his team are ready to restore your teeth to their natural form and function. We have the customized restorative solutions you need. Using the latest technology and most lifelike materials, Dr. Griffith can restore your teeth to a healthy state, while often enhancing your smile. To learn more about your restorative options and/or schedule an appointment, contact us today.
CEREC One Visit Dental Restorations
In the past, if a patient needed to have a tooth restored with a dental crown, it was quite the process. It would take at least two appointments, a messy dental impression, and spending 2-3 weeks with a temporary crown, just to repair one tooth. Thankfully, Brookside Dental Care has a better solution. With CEREC technology, Dr. Griffith can design, fabricate, and place a completely custom-made permanent dental crown in just one easy appointment. This approach creates and delivers a crown in as little as one hour without compromising quality.
Traditional Dental Crown & Bridge
A dental crown is a tooth-shaped restoration that simply fits over the top of a damaged tooth With a crown, Dr. Griffith can repair a large cavity, replace missing parts of a broken tooth, and even cosmetically improve a misshapen or undersized tooth. For patients missing one or more teeth in a row, crowns can also be used to support prosthetic teeth to fill in the gaps, forming a bridge. Dr. Griffith personally designs these restorations to ensure they fit seamlessly into a patient's smile.
Tooth-Colored Fillings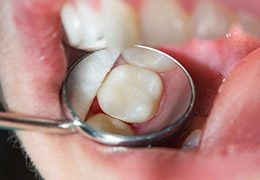 When it comes to fixing small cavities and slightly damaged teeth, tooth-colored fillings are the perfect solution. Unlike traditional amalgam (silver) fillings, they can be colored to match a patient's natural enamel, making the restoration practically undetectable in the mouth. The composite resin material also forms a very strong bond to the tooth, enabling Dr. Griffith to preserve more of your natural tooth structure. The result is a fully repaired tooth that looks great and can be trusted to last.
Dentures & Partial Dentures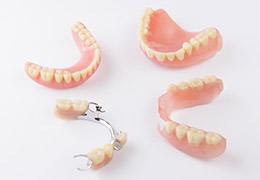 For hundreds of years, dentures have offered a way to help patients with extensive tooth loss, and thanks to the latest advancements in dental prosthetics, they are better than ever. No matter how many teeth a person is missing, Dr. Griffith can create a full or partial denture that is comfortable and natural-looking. Plus, he's also able to offer implant-retained dentures so patients can enjoy the most secure and reliable fit available.