SureSmile Clear Aligners – Prestonsburg, KY
Your Sure Route to a Straighter Smile
Many people regard crooked teeth as a mere aesthetic issue. However, dental misalignment can also increase your risk of cavities, bad breath, and other oral health problems. It is worth your time and money to invest in orthodontic treatment! Modern dentistry offers a number of methods for straightening teeth, including discreet clear aligners. At Brookside Dental Care, we are proud to offer the innovative SureSmile clear aligner system. Would you like to learn more about how it works?
How Does SureSmile Work?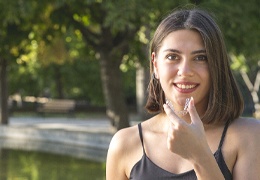 Traditional orthodontic treatments use brackets and wires to apply gentle pressure to the teeth, gradually moving them bit by bit. The SureSmile clear aligner system uses custom-made aligner trays instead. You wear each aligner for 20 – 22 hours every day for about two weeks before moving on to the next aligner in your series. Once you work your way through all of your aligners, your teeth should be in their ideal positions.
To get started with SureSmile, you'll need to schedule a consultation with us. We'll take detailed images of your mouth, and we will use our advanced digital impression system to create a 3D representation of your teeth (no messy manual impressions!). Then, your dentist will use the patented SureSmile software to map out your tooth movements. This digital workflow contributes to predictable, desirable treatment outcomes.
Once your treatment plan is confirmed, SureSmile will fabricate your aligners and send them to our office. Then, you can begin to move your teeth. Throughout your treatment period, you will visit our team for brief checkups.
Benefits of SureSmile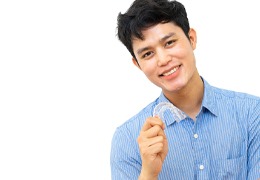 Some of the most outstanding benefits of SureSmile include:
SureSmile aligners are clear. Onlookers will notice your bright and welcoming smile before they notice your orthodontic treatment.
No dietary restrictions. Because the aligners are removable, you will be able to eat virtually anything during your treatment period. Simply take your aligners out at mealtimes and replace them when you are finished.
Easy oral hygiene. Traditional braces can make oral hygiene a bit challenging. Since SureSmile is removable, you will be able to brush and floss your teeth using regular techniques.
Fast treatment. The average overall treatment time is shorter with SureSmile than it is with regular braces. You may begin to see results in just a few months.
Cost-effectiveness. SureSmile is among the more affordable clear aligner systems.
Is SureSmile Right for You?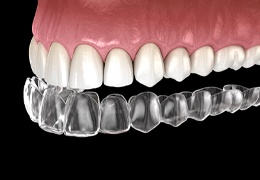 The best way to find out if SureSmile is right for you is by scheduling a consultation with our team. It may be a fit for your circumstances if:
You suffer from mild to moderate dental misalignment. SureSmile clear aligners can correct many cases of gapped teeth, crowded teeth, rotated teeth, and bite problems. If your alignment problems are severe, you may need to explore other orthodontic options.
You have good habits. SureSmile's success will depend on your willingness to comply with all of your treatment instructions.
You want to maintain a professional image. Many adults strongly prefer clear aligners over traditional brackets and wires.
Are you ready to learn more about SureSmile and how it may be able to transform your teeth? Get in touch with our friendly team today.