Porcelain Veneers – Prestonsburg, KY
Transform Your Smile and Discover New Confidence
Your smile is one of the first things people notice about you. It is how you let others know that you are friendly, approachable, and eager to interact with them. However, you may hold back from smiling if you have noticeable aesthetic flaws in your teeth. Let's talk about how porcelain veneers may be able to disguise those imperfections and give you a gorgeous smile that you can't help but show off.
How Do Porcelain Veneers Work?
Porcelain veneers are ultra-thin pieces of porcelain that Dr. Griffith permanently attaches to the fronts of your teeth. Their purpose is to cover a broad range of aesthetic imperfections, including chipped teeth, small gaps between the teeth, discoloration, asymmetrical teeth, and more. Veneers are custom-designed for each patient, so you can be confident that they will complement both the surrounding teeth and your natural facial structures.
It usually takes two appointments to place porcelain veneers. At the first appointment, Dr. Griffith will prepare your teeth by removing a sliver of enamel from them. This step is to ensure that your new smile won't look bulky or unnatural. Then, we'll take some impressions of your teeth, which a dental laboratory will use to create your custom veneers. You will wear temporary veneers until your permanent ones are ready. Then, you'll return to our office so Dr. Griffith can verify that the veneers are the ideal fit for you before he bonds them to your teeth.
What Benefits Do Porcelain Veneers Offer?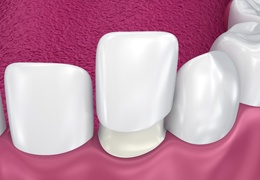 The most outstanding benefits of porcelain veneers include:
Resistance to stains. Porcelain is nonporous, which means that it will not absorb pigments from coffee, red wine, or other staining substances. You can expect your veneers to maintain their luster for many years.
Veneers are tough enough to stand up to everyday eating and drinking. As long as you take proper precautions to protect them, (for example, you should always wear a mouthguard when you play sports), they should last for 10 – 15 years or longer.
Natural appearance. Porcelain reflects light in a manner that is similar to real tooth enamel, so you'll never have to worry that your veneers will look unnatural.
Who Should Consider Porcelain Veneers?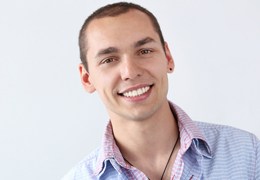 Porcelain veneers may be the ideal treatment for you if:
You have noticeable aesthetic flaws on your front teeth.
You are free of gum disease and other significant oral health issues.
You have an adequate amount of tooth enamel to accommodate the veneers.
You have excellent oral hygiene habits and will take good care of your veneers.
You don't grind or clench your teeth.
Your teeth are moderately straight.
To find out for sure whether you are a candidate for porcelain veneers, schedule a consultation with Dr. Griffith. After he evaluates your oral health and talks to you about your goals and expectations for cosmetic treatment, he'll let you know whether porcelain veneers are a good fit for your circumstances.