Dental Checkups and Cleanings – Prestonsburg, KY
Maintain a Healthy, Fresh Smile
You've probably heard the advice time and again: Visit your dentist every six months for a cleaning and checkup. Still, you might hesitate to attend these routine appointments because you take good care of your teeth at home, and you don't want to spend time and money on visiting the dentist. But these preventive appointments are vital! This page explains why regular dental cleanings and checkups are so important and what you can expect when you attend them.
Why Choose Brookside Dental Care for Cleanings and Checkups?
Catch dental problems early on
Gentle, personalized care from a compassionate team
Dentist with over 25 years of experience
Why You Need Checkups and Cleanings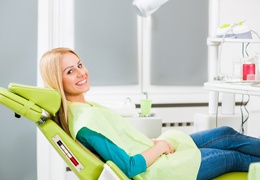 You may take excellent care of your teeth at home, but everyday brushing and flossing aren't enough to maintain a truly healthy mouth. For example, you might routinely miss a spot on your teeth when you're cleaning them, and tartar could easily accumulate there. Tartar is impossible to remove with a regular toothbrush; professional dental instruments are necessary.
At your cleanings, your hygienist will also offer you personalized tips on how to care better for your teeth. They can coach you on things like proper flossing technique, choosing the right products to care for your mouth, making tooth-friendly snack choices, and more.
Checkups are also vitally important. Many dental problems do not present symptoms until after they're relatively serious. Dr. Griffith may be able to spot such issues before they cause you pain. Catching problems early on allows for treatment that is as minimally invasive and cost-effective as possible. For example, treating a small cavity with a filling is a relatively simple and inexpensive process. However, if routine dental appointments are neglected and the decay worsens, it could lead to the need for extensive and costly treatment.
What to Expect During a Cleaning and Checkup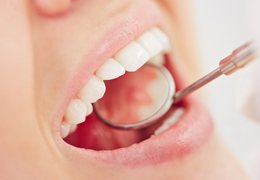 After a member of our friendly staff greets you and escorts you to your treatment room, you might have a few X-rays taken. Then, a hygienist will gently clean and polish your teeth. During some parts of the cleaning process, you might feel some pressure on your teeth, but there should never be any pain.
Dr. Griffith will perform a thorough evaluation of your mouth. He'll review any X-rays, and he'll examine your teeth and gums. If he notices signs of dental decay, gum disease, or other oral health issues, he'll design a treatment plan to remedy those problems and get your smile back to functioning and feeling its best.
Throughout your appointment, please feel free to ask any questions about your oral health or express any concerns you have about your comfort level. Our goal is to provide a positive experience for every patient, and open communication will help us to accomplish that.
Visit Brookside Dental Care for Cleanings and Checkups
Dr. Griffith and our team love to help our patients enjoy the many benefits of a healthy, fresh smile. If it is time for your next cleaning and checkup, or you have questions about any of the services we offer, contact us today.