Dental Implants — Prestonsburg, KY
Strong & Beautiful Tooth Replacement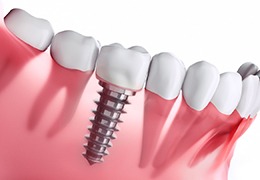 When it comes to replacing missing teeth, dental implants are truly in a class of their own. A small, titanium post is placed into the jawbone to recreate the root of a missing tooth, and this is used to support a number of restorations that can replace any number of teeth. Dental implants are the only treatment option that restores an entire tooth, and as a result, they are the next best thing to nature. Dr. Griffith is able to provide complete implant care right here in Prestonsburg so patients can get everything they need in one convenient dental office location. To learn more about this strong and beautiful tooth replacement option and what it could do for you, contact us today for an implant consultation appointment.
Why Choose Brookside Dental Care For Dental Implants?
FREE No-Obligation Dental Implant Consultation
Start-To-Finish Dental Implant Treatment for Your Convenience
Financing & In-Office Savings Plan Available to Make Treatment Affordable
What Are Dental Implants?
Natural teeth are made up of two primary parts: there's the visible crown that you see when you smile and the hidden roots underneath that keep it anchored in place. Traditional tooth loss solutions like dentures and dental bridges only replace the crowns of missing teeth, leaving a lot to be desired in terms of functionality and comfort. On the other hand, dental implants are designed to mimic the entire structure of a missing tooth both above and below the gumline!
Dental implants are small titanium posts that can be surgically inserted into the jawbone where a missing tooth once was. This effectively replaces the root system and provides a strong, lifelike foundation for your replacement teeth. On top of the implant and above the gumline, a custom-made restoration is attached via a small connector piece called an abutment. Depending on how many dental implants you're getting, you can get a crown, bridge, or denture to replace any number of missing teeth! The end result is a beautiful smile that looks, feels, and functions just like natural.
Benefits of Dental Implants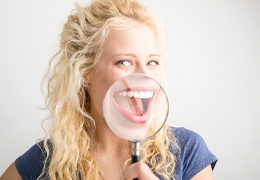 Dentists and specialists throughout the U.S. place an average of more than 5 million dental implants each year. When you consider all the benefits that this treatment has to offer, it is easy to understand why it is so popular. What might it be able to do for you? Below, you'll find information about the benefits of dental implants in Prestonsburg as they relate to daily quality of life, oral and overall health, and long-term advantages.
Day-to-Day Benefits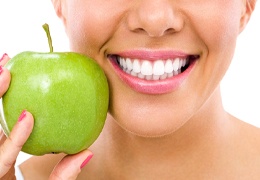 Some of the top everyday benefits of dental implants include:
Strong chewing ability. Dental implants are incredibly sturdy, so you can use them to chew even tough and hearty foods — including foods that traditional dentures may not be able to handle.
A natural appearance. Your implant dentist in Prestonsburg will carefully design your implant-supported crown, bridge, or denture so it complements your remaining natural teeth and blends in seamlessly with your smile. Plus, you will be able to avoid the sunken facial appearance that commonly occurs after tooth loss.
No slips. When traditional dentures do not fit well, they can easily slip out of place, causing discomfort and embarrassment. Dental implant restorations are so secure that you will be able to speak and eat without worry.
Easy maintenance. In many ways, caring for dental implants is similar to caring for natural teeth. A thorough oral hygiene routine, along with regular dental visits, has the potential to keep your smile problem-free for the long haul.
Health Benefits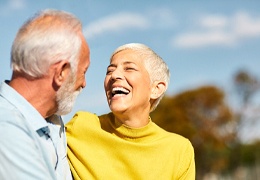 Dental implants in Prestonsburg offer benefits for both oral and overall health:
Jawbone preservation. After the loss of natural teeth, the jawbone begins to lose its density and volume. Traditional dentures can accelerate the bone loss. Dental implants, on the other hand, stimulate the bone and help to keep it healthy and whole.
A balanced diet. Because you will be able to eat a wide variety of foods, you can enjoy the disease-preventing benefits of a healthful diet.
Traditional dentures may cause gum sores, especially if they do not fit well. Dental implants do not have that issue.
Protection for your natural teeth. Dental implants can prevent your natural teeth from drifting out of place. Also, placing implants usually does not require that any of the nearby teeth be modified or extracted.
Long-Term Benefits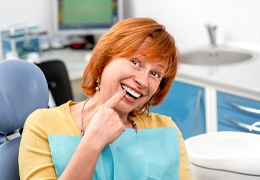 You can begin to enjoy the benefits of dental implants as soon as you receive your restorations, and they should continue to serve you well for many years. Some of their long-term benefits include:
With proper care, dental implants have the potential to last a lifetime. The restorations on top of them can also last for quite a while.
Save money. Although dental implants cost more upfront than traditional forms of tooth replacement, they last so long that they may actually be a better monetary value.
Save time. The easy maintenance of dental implants will spare you from having to spend countless hours on maintaining them. You'll have more time to enjoy all the wonderful things that life has to offer.
Who Dental Implants Can Help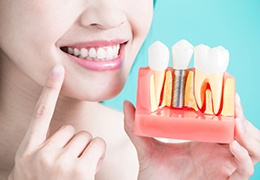 If you are a healthy adult with a strong jawbone and one or more missing teeth, there's a great chance that dental implants in Prestonsburg can help you! This versatile treatment can be used to address any level of tooth loss. First, we'll make sure you're a good candidate for dental implants during your initial consultation and help you schedule any necessary preliminary treatments. Then, we can move on to planning your dental implant treatment around how many teeth you're missing.
Who Is a Good Candidate for Dental Implants?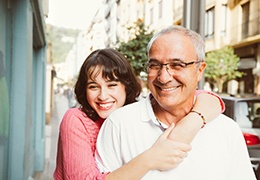 Typically, candidates for dental implants:
Have fair overall health. You should be well enough to recover from minor surgery.
Have good oral health. It is important that you are free of gum disease and other significant oral health problems because such issues could interfere with the long-term success of your implants.
Have a strong, thick jawbone. Your jawbone must be strong enough and thick enough to accommodate your dental implants.
Stick to good habits. Non-smokers with excellent oral hygiene habits are likely to keep their dental implants for a lifetime.
Even if you do not believe that you are an ideal dental implant candidate right now, we still invite you to come in for a consultation. The vast majority of adults do qualify for implants, either right away or after some preliminary treatments.
Missing 1 Tooth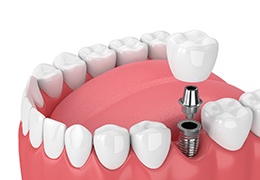 Replacing a single tooth tends to be a straightforward procedure in most cases. We insert a dental implant into the jawbone and later, we top it with a custom-made dental crown. Because this new tooth will have a two-part structure similar to that of the natural teeth surrounding it, it will seamlessly blend into the smile.
Unlike a traditional bridge, an implant crown doesn't require support from the neighboring teeth — which means that those nearby teeth usually do not have to be modified in any way. Implants also tend to last longer and provide more natural function than regular bridges.
Missing Multiple Teeth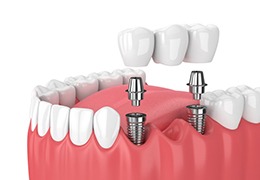 Fortunately, implants are not limited to just restoring single teeth. Several consecutive missing teeth can be replaced without altering the surrounding healthy teeth thanks to an implant bridge. A dental implant is positioned on each side of the gap in your smile and topped with a crown. Prosthetic teeth are connected to the crowns to fill in the space.
If your missing teeth are not consecutive, you might qualify for an implant-supported partial denture or a few strategically placed implant crowns. As your dental implant dentist in Prestonsburg, we will adapt your treatment to your unique needs.
Missing All Teeth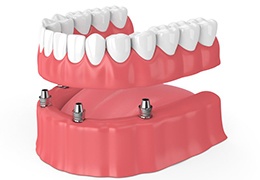 Tired of constantly having to use adhesive for your loose, ill-fitting denture? Dental implants can help you finally get a solution you can rely on. With implant dentures, a full denture is anchored directly onto a few well-placed implants. Because of this, they have a security and stability that regular dentures simply can't match, and they can restore much more of your natural bite force.
There are a few different types of implant dentures, including those that are permanently attached to the implants that support them, as well as those that are easy to remove without professional assistance.
Understanding the Cost of Dental Implants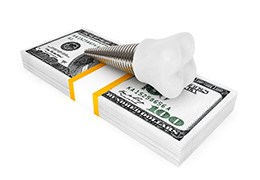 The overall cost of an implant procedure can vary quite a bit from patient to patient depending on a few determining factors, such as how many teeth a patient wants to have replaced, the location of those teeth, and if they require any preparatory procedures (such as extractions or a bone graft to build up the jaw).
What is important to remember, however, is that despite costing more upfront, dental implants can be the most cost-effective replacement thanks to their longevity. Traditional bridges and dentures typically need to be replaced every 7-10 years. With proper maintenance, good health and excellent home care, implants can last for 30 years or more. Over time, this results in a much lower cost for a patient.