Dental Implants – Prestonsburg, KY
Strong & Beautiful Tooth Replacement
When it comes to replacing missing teeth, dental implants are truly in a class of their own. A small, titanium post is placed into the jawbone to recreate the root of a missing tooth, and this is used to support a number of restorations that can replace any number of teeth. Dental implants are the only treatment option that restores an entire tooth, and as a result, they are the next best thing to nature. Dr. Griffith is able to provide complete implant care right here in Prestonsburg so patients can get everything they need in one convenient dental office location. To learn more about this treatment and what it could do for you, contact us today for an implant consultation appointment.
Missing One Tooth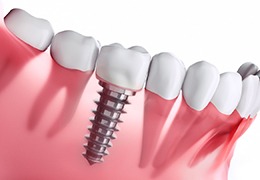 After a patient has healed from having their new implant placed, a single natural looking crown will be attached to complete the process. Because this new tooth will have the same two-part structure as the natural teeth surrounding it, it will completely blend into the smile, both aesthetically and functionally. And, unlike a traditional bridge, an implant crown doesn't require support from the neighboring teeth.
Missing Multiple Teeth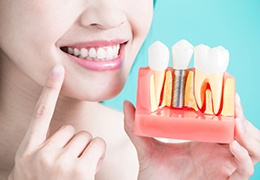 Fortunately, implants are not limited to just restoring single teeth. For a patient who does not have enough healthy dental structure to receive a traditional bridge, a bridge can also be placed using dental implants. Two implant crowns are positioned on both sides of the missing teeth, and prosthetic teeth are connected to them to fill in the space.
Missing All Teeth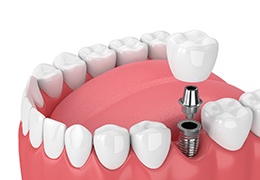 Tired of constantly having to use adhesives in your loose, ill-fitting denture? Dental implants can help you finally get a solution you can rely on. With implant retained
dentures, the denture is anchored directly to the implants. Because of this, they have a security and stability regular dentures simply can't match, and they have also been shown to restore much more of a patient's bite strength.
Cost Effectiveness of Dental Implants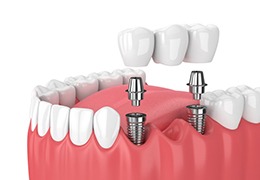 The overall cost of an implant procedure can vary quite a bit from patient to patient depending on a few determining factors, such as how many teeth a patient wants to have replaced, the location of those teeth, and if they require any preparatory procedures (such as extractions or a bone graft to build up the jaw).
What is important to remember, however, is that despite costing more upfront, dental implants can be the most cost-effective replacement thanks to their longevity. Traditional bridges and dentures typically need to be replaced every 7-10 years. With proper maintenance, good health and excellent home care, implants can last for 30 years or more. Over time, this results in a much lower cost for a patient.