Gum Disease Treatment – Prestonsburg, KY
Healthy Gums = Healthy Teeth
When it comes to your oral health, the condition of your gums is actually just as important as your teeth! Without consistent oral hygiene at home and routine dental appointments, the gums can easily develop an infection called periodontal (gum) disease. Symptoms include red, swollen, and tender gums that bleed easily, and eventually, it can even lead to tooth loss! To make sure a patient's smile stays fully protected, we have a number of gum disease treatments that can help detect and combat this problem as quickly as possible. If any of the symptoms we mentioned above sound familiar, be sure to contact us today to get the treatment you need!
Non-Surgical Periodontal Therapy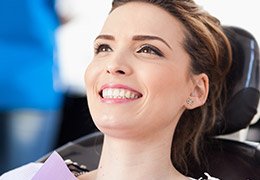 During the early stages of periodontal disease, it can often be effectively treated by non-surgical periodontal therapy. An ultrasonic cleaner is used to remove plaque and tartar from around the gum line (scaling), and the roots of the teeth are gently smoothed (root planing). This treatment not only helps with current infections, but it also lowers a patient's chances of infection returning.
Soft Tissue Laser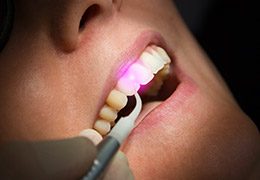 In treating more advanced gum disease, our hygienists use a dental laser. This instrument is able to generate a very concentrated beam of light to help aid in the disruption of bacteria located deep beneath the gum line as well as remove infected tissue. Treatment with the laser is so gentle that most patients don't even need local anesthesia to remain comfortable, and it also helps cut down on post-procedure bleeding and swelling as well.