Cosmetic Dentistry – Prestonsburg, KY
Smile with Complete Confidence
Do noticeable flaws like stains, chips, cracks, or gaps make you feel self-conscious every time you speak or smile? If so, Dr. Griffith can help you achieve the smile of your dreams in just a few easy appointments using our cosmetic solutions. Thanks to his artistic eye and years of experience, he'll ensure that your results are not only beautiful, but natural-looking as well! Using the latest in smile imaging technology, Dr Griffith can show you what your new smile could look like before treatment is even begun. To learn more about your cosmetic options and/or schedule an appointment, give us a call today.
Porcelain Veneers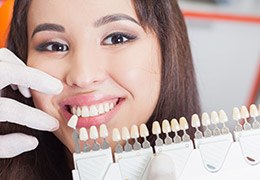 Whether you're interested in fixing a few minor imperfections or getting a "Hollywood smile", porcelain veneers can help. These extremely thin ceramic coverings are bonded directly to the front side of the teeth, and they can make a variety of aesthetic issues instantly disappear. They are always custom-made, so they can give you everything from a small touch-up to a complete makeover. It's entirely up to you.
Metal-Free Dental Restorations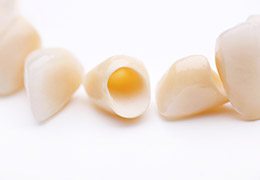 In the past, if a patient needed one of their front teeth repaired, their only option was to get a silver or gold crown that would instantly stand out. Fortunately, we're no longer in the past! Dr. Griffith can now provide restorations that are made of 100% high strength dental porcelain. This material can mimic the shape, shade, and even translucent appearance of real enamel so that it blends seamlessly into your smile.
Dental Bonding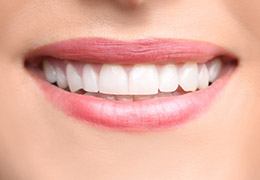 Want a quick fix for your smile problem that only takes an hour or less? Cosmetic bonding can help you eliminate that one pesky stain, crack, or gap that has bothered you for years. Dr. Griffith will apply a color-matched composite resin material to your affected tooth so he can sculpt it into the perfect shape and size. This treatment is not only quick, but painless as well, and the results can last for 10 years or more.
Teeth Whitening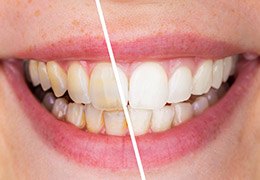 Everyone wants to have bright white teeth, but everyday factors like coffee, wine, tea, tobacco, and even aging can easily cause your smile to discolor over time. If you're looking to restore that youthful glow to your teeth, then we can help. During your whitening consultation our hygienists will help you determine the best option for you. We offer multiple bleaching methods and strengths to effectively whiten most smiles. The end result will be a smile that is up to 8 shades brighter!