Emergency Dentistry – Prestonsburg, KY
Give Us a Call for Fast Pain Relief
If you or a loved one are experiencing dental pain, whether it's due to an injury or a toothache, you can always turn to Brookside Dental Care to get the care you need. We're happy to accept emergency patients and can usually provide same-day care. When you need dental care right away, just give us a call.
Why You Should Come See Us For Dental Emergencies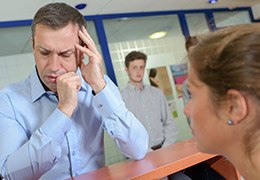 Dr. Griffith has served the Prestonsburg community since 1993, and in that time, he's pretty much seen and done it all when it comes to emergency dentistry! No matter what your situation might be, he's probably handled it before, and he'll know exactly how to give you the treatment you need. And, thanks to his investment in the latest dental technology, he's able to find, diagnose, and treat dental problems quickly, which is especially helpful during an emergency situation!
Root Canals
If you're experiencing a lot of pain or pressure in a single tooth, then it's likely that the sensitive interior nerve, called the dental pulp, has been damaged or developed an infection. Fortunately, Dr. Griffith can save the tooth and relieve any discomfort with a root canal. For this procedure, he simply removes the compromised tissue and rebuilds the tooth using a custom-made restoration. Thanks to his expert touch, local anesthesia, and our sedation options, this often feared procedure can be as easy as getting a small filling.
Tooth Extractions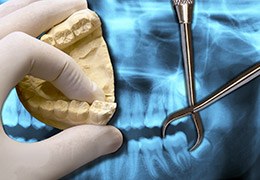 We prefer to help our patients keep their natural teeth for as long as possible, but sometimes, it is necessary to remove a problem tooth. Dr. Griffith may recommend an extraction if:
A tooth has a cavity too large to be repaired with a filling or crown
A tooth has been broken beyond the point of restoration
Severe periodontal disease is present
Decay in one tooth is beginning to threaten neighboring teeth
Should you ever need an extraction, our team will make sure you're comfortable the entire time. We can also recommend replacement options to fill in the space.
Wisdom Tooth Extractions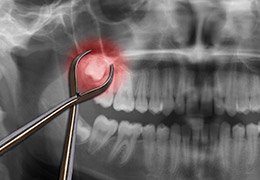 The wisdom teeth are actually just a third set of molars that usually start to come in around the late teens or early twenties. Unfortunately, most people simply don't have enough room in their mouth for them, so they can cause all sorts of problems as they try to come in. Jaw pain, teeth crowding, and even infections are very common, which is why these teeth are often removed. This can sometimes require referral to a specialist, but often Dr. Griffith can perform safe and effective wisdom tooth extractions right here at Brookside Dental Care.