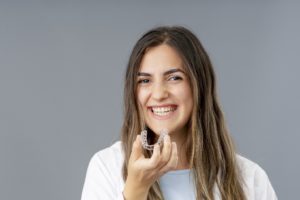 Misaligned teeth increase the risk of several oral health problems, including TMD, cavities, broken teeth, and more — and that is in addition to the aesthetic issues they present. If your teeth are not all in their proper places, you should certainly consider your orthodontic treatment options. SureSmile, a clear aligner system, offers discretion and convenience, while braces come with their own set of advantages. Which one should you choose? Let's take a moment to compare SureSmile vs. braces.
Effectiveness
Both SureSmile and braces can correct a wide range of alignment issues, including gapped teeth, rotated teeth, overcrowding, and bite problems. However, clear aligners tend to be best for mild to moderate cases. Braces, on the other hand, are capable of handling even the most severe instances of misalignment. After your dentist examines your teeth, they will be able to let you know if one or the other treatment would be a better fit for your unique mouth.
Appearance
If aesthetics is one of your primary concerns, SureSmile is the definite winner over braces. The aligners are constructed out of clear plastic, which means they are barely noticeable while you are wearing them. Conversely, braces feature a system of metal brackets and wires that is obvious to onlookers.
Convenience
Braces are convenient in that they are always on your teeth, so you never have to worry that you might forget to wear them. However, SureSmile aligners offer other attractive convenience features. For example, because the aligners are removable, you simply take them out of your mouth at mealtimes — there is no need to forgo your favorite foods. Their removable nature also makes it easy to maintain excellent oral hygiene.
Comfort
Many patients complain about the brackets and wires that come with braces. The metal parts can irritate soft tissues in the mouth, especially if a wire becomes loose. SureSmile aligners contain no metal parts. Rather, they are constructed out of a smooth thermoplastic that is designed to be as comfortable as possible. Of course, both braces and SureSmile may cause a bit of soreness as they move the teeth, but that is an inevitable part of orthodontic treatment.
Price
Dentists and orthodontists set the prices for clear aligners and braces based on the cost to their business and their desire to make a reasonable profit. Given that, prices for both types of treatments can vary widely. In general, the prices of SureSmile aligners and traditional braces tend to be in the same ballpark.
Are you ready to straighten your teeth? Your dentist can help you decide whether SureSmile clear aligners or traditional braces are the better option for your unique circumstances.
Meet the Practice
Drs. Bryan Griffith and Alex Hartgrove are the skilled general dentists at Brookside Dental Care. SureSmile is among the many services they offer. If you would like to learn more about clear aligners and what they may be able to do for you, contact our office at 606-874-9311. Our team looks forward to serving you!