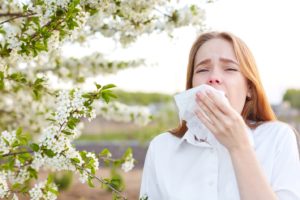 There is lots to love about springtime, from invigorating rain showers to colorful flowers and more daylight hours. But there are a few things about spring that aren't so lovely — including seasonal allergies. The coughing, sneezing, nasal congestion, and watery eyes can sure cause some misery. Your allergies could even affect your oral health! Let's talk about how that is so and what you can do to protect your smile.
Allergies and Dry Mouth
Nasal congestion is a common symptom of seasonal allergies. If you cannot comfortably breathe through your nose, you may resort to breathing through your mouth, which can make your mouth feel dry. Not only is dry mouth uncomfortable, but it also increases your risk of cavities and bad breath.
Allergy Medications and Oral Health Problems
Antihistamines are a common remedy for symptoms of seasonal allergies. Unfortunately, one of their most common side effects is dry mouth, which, as noted above, increases the risk of oral health problems.
It's also important to be aware of the fact that many liquid allergy medications, particularly those marketed for children, are quite high in sugar. For example, liquid Benadryl is quite sweet. The sugar in it, combined with dry mouth as a possible side effect, can spell trouble for teeth.
Sinus Pressure and Toothaches
Seasonal allergies may cause swelling and congestion in your sinuses. In turn, the sinuses may put pressure on your teeth (specifically, the upper molars), leading to a toothache. Fortunately, this issue is usually temporary and isn't a serious threat to your oral health. However, it can be quite uncomfortable.
Tips for Protecting Your Smile this Spring
Here are a few tips to help you lessen the impact of your allergies on your oral health:
Stay hydrated. Drinking plenty of liquids can help to combat dry mouth. Plain water should be your drink of choice because sugary beverages increase the risk of tooth decay, and the artificial sweeteners in some sugar-free drinks might actually worsen dry mouth.
Try different medications. If your allergy medication makes your mouth feel dry, you might benefit if you try a different remedy. If over the counter products don't seem to work for you, ask your primary care practitioner about getting a prescription.
Stay in touch with your dentist. If you believe your allergies are adversely affecting your oral health, visit your dentist for a checkup. They can provide tips on how to care for your teeth and gums. And they will double-check to make sure that any sinus-related toothaches aren't a threat.
Pollen counts in Prestonsburg can get pretty high sometimes! If you suffer from seasonal allergies, you should take preventive measures to make sure they don't adversely affect your smile.
Meet the Practice
Dr. Bryan Griffith and his associate, Dr. Jay Alex Hartgrove, are the dentists at Brookside Dental Care. They have many years of combined experience, and they are proud to provide a range of preventive and restorative services. If you have questions about how to manage your oral health this spring, they would be pleased to assist you. Contact our practice at 606-874-9311.