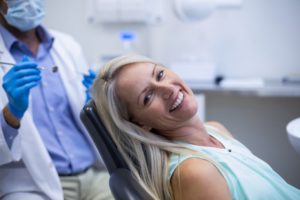 Life is busy, so it is understandable if you feel that you do not have time to visit your dentist for a professional cleaning and checkup. Of course, some people skip their appointments for other reasons, such as anxiety or a desire to save money. But did you know that skipping a dental cleaning can lead to serious consequences? Let's talk about some reasons why you should make professional dental care a regular part of your routine.
You Can't Remove Tartar on Your Own
As you eat, bacteria in your mouth interact with your food, and plaque forms on your teeth. Plaque is easy to remove with your toothbrush. However, if you miss a spot or two when you are brushing, that plaque can harden into tartar. Tartar is impossible to remove with your at-home oral hygiene tools. The longer it stays on your teeth, the greater your risk of developing cavities. Your dental hygienist carefully removes all traces of tartar from your teeth at your cleanings.
Restorative Care Costs More than Preventive Care
A dental cleaning and checkup is relatively inexpensive. If you have insurance, you might pay little to nothing out of pocket for your appointment. If you skip preventive care and end up requiring restorative treatment, you might have to pay a lot more. Your insurance may cover just 50 – 80% of the cost of your procedure, which means you may end up paying hundreds or thousands of dollars. If you require a particularly extensive treatment, you might even have to miss a few days of work.
Dental Problems Don't Always Cause Pain Right Away
If you skip dental cleanings because you believe your teeth and gums are healthy, you might be right. It's possible that your smile is problem-free. However, keep in mind that many dental problems do not present obvious symptoms when they are in their early stages. You might have a small cavity or early indications of gum disease. Regular checkups with your dentist give them the opportunity to diagnose and treat such issues before they start causing you pain.
You Want Your Smile to Look Its Best
Dental cleanings have some aesthetic benefits. For example, your hygienist may remove some surface stains from your enamel when they polish your teeth. The removal of plaque and tartar can also make your teeth look healthier and more attractive. Additionally, hygienists and dentists are always happy to offer tips and product recommendations for at-home oral care to help you keep your smile looking its best.
When was the last time you received a professional dental cleaning and checkup? If it has been more than six months, now is the time to schedule an appointment! Your wallet and your oral health will thank you.
Meet the Practice
Drs. Bryan Griffith and J. Alex Hartgrove are the dentists at Brookside Dental Care. They focus on providing the most comfortable care experience possible, and they are ardent advocates of preventive care. If you would like to learn how they and our team can help you care for your smile, contact us at 606-874-9311.