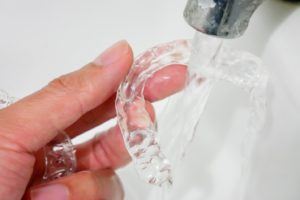 SureSmile clear aligners offer a convenient and discreet way to shift your teeth into their proper positions. They can allow you to enjoy a healthier, more attractive smile! In order for the treatment to succeed, however, you must accept a degree of responsibility. You need to take certain precautions to protect your aligners against damage. Here are some tips to help you do just that.
Keep Them Clean
Your dentist will give you detailed instructions on how to keep your aligners clean. In general, you should thoroughly clean them at least once a day using products that are specifically designed for that purpose (you may be able to purchase a cleaning kit from your dentist). It is also wise to rinse them after meals before you put them back in your mouth.
Keep Your Teeth Clean, Too
Oral hygiene is always important, but it is especially so while you are undergoing orthodontic treatment. You do not want food particles or sugar to get trapped in your aligners and expose your teeth to potential harm. In addition to brushing your teeth every morning and evening, as well as flossing once a day, you may find it beneficial to carry a small oral hygiene kit with you wherever you go. You should be able to give your teeth a quick cleaning after every meal before you put your aligners back in your mouth.
Stick to Drinking Plain Water
The only thing you should drink while your aligners are in your mouth is plain water. Sugary beverages may get caught in your aligners and damage your teeth, while anything with coloring in it — such as juice or dark soda — might stain the aligners. Also, keep in mind that hot drinks, like coffee and tea, may warp the aligners and cause them to lose their shape.
Keep Track of Your Aligners
The removable nature of SureSmile aligners is certainly convenient, but it also presents the possibility that you could lose track of one of them. To prevent that from happening, you should:
Avoid placing your aligners in a napkin while you eat. Many individuals with clear braces have accidentally thrown an aligner away following a meal.
Invest in a storage case. Always put your aligners in their designated case while you are not wearing them or cleaning them.
Do not needlessly remove your aligners. You should only take your aligners out when you are cleaning them or eating a meal.
SureSmile clear aligners provide effective and aesthetically pleasing orthodontic treatment. Applying the above tips can make sure your journey to straighter teeth is as easy and problem-free as possible.
Meet the Practice
Drs. Bryan Griffith and Jay Alex Hartgrove are the dental professionals at Brookside Dental Care. Together, they provide a broad range of treatments, including SureSmile clear aligners. If you would like to learn more about how they may be able to help you straighten your teeth, or about what the SureSmile treatment involves, they would be happy to speak with you. You are welcome to contact our office at 606-874-9311.