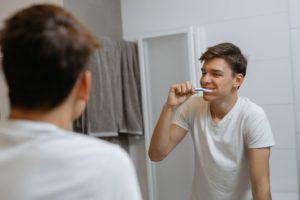 Your dentist is always ready to help you out if you face a dental emergency. However, they would prefer that you never have to deal with such a frightening and painful situation in the first place. So what can you do to reduce your risk of encountering a dental emergency? In this blog post, we outline seven simple steps to safeguard your oral health.
1. Brush Your Teeth Twice a Day
Diligent brushing removes plaque from your teeth and prevents decay. When you brush, be sure that you clean the area along the gumline as well as the backs of your teeth. Also, keep in mind the need to be gentle. Overbrushing can damage your enamel and gum tissue.
2. Use the Right Toothbrush
Your toothbrush is just as important as your brushing technique. Always choose a brush with soft or extra soft bristles, and be sure to replace your toothbrush every 3 months or so. If you have an electric toothbrush, it might even have an indicator that tells you when you should replace the head.
3. Floss Daily
As important as brushing is, it cannot clean all of your teeth's surfaces. Therefore, it is vital that you use floss to clean the tight spaces between your teeth. If you have questions about proper flossing technique, your dental hygienist would be happy to coach you.
4. Visit Your Dentist Regularly
Even if your oral hygiene habits are excellent, you should still visit your dentist at least twice a year for a professional cleaning and checkup. These routine appointments give your dentist an opportunity to identify and treat oral health problems before they worsen and lead to an emergency.
5. Make Wise Nutritional Choices
When sugar combines with the bacteria in your mouth, harmful plaque is the result. Therefore, you should enjoy sugary items, like flavored lattes, baked treats, and candy, only once in a while. You should also eat plenty of foods that are good for your teeth, such as items that are rich in calcium.
6. Do Not Ignore Signs of Dental Problems
Have you noticed a little twinge of pain in one of your teeth, or do your gums bleed when you brush? Instead of ignoring these red flags and hoping they will go away on their own, give your dentist a call. The longer you wait to seek treatment, the greater your chances of suffering a dental emergency.
7. Wear a Mouthguard When You Play Sports
Accidents can happen anytime, especially if you enjoy playing contact sports like football or basketball. A custom mouthguard from your dentist can greatly reduce the risk of trauma to your teeth.
The above tips are just some of the ways in which you can decrease your chance of suffering a dental emergency. Are you doing all you can to protect your precious smile?
About the Practice
Dr. Bryan Griffith, along with his associate Dr. Alex Hartgrove, provides general and emergency dental services to the Prestonsburg community. They focus on providing prompt, comfortable treatment. To learn more about our practice and how we may be able to serve you, get in touch with us at 606-874-9311.