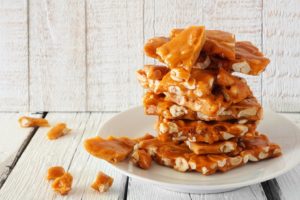 The last few months of the year are often marked by great deals at retailers, various seasonal festivities, and delicious treats. When the weather starts to turn chilly, holiday foods pop up everywhere. Whether you start the day with a stop at your favorite coffee shop, see mouthwatering pies and cakes at the grocery store, or are confronted by the office candy jar, temptations abound. Unfortunately, many of the yummy foods and drinks that are common at this time of year have a high sugar content and are bad for teeth. Use the following tips to prevent damage to your smile during this treat-filled season.
Indulge Judiciously
It's okay to indulge in sweet foods occasionally. However, eating sugary delights should not become part of your normal routine during the final few months of the year. Chewing on sugar-free gum, eating adequate amounts of protein, and planning your meals can do much to help you curb cravings and say no when temptations arise. When you do decide to eat something that isn't good for your teeth, make sure it is something you truly enjoy.
Take Your Oral Hygiene with You
If your daily activities take you away from home, you might find it advantageous to bring an oral hygiene kit with you. About 30 minutes to an hour after you consume something with a lot of sugar, head to the nearest restroom and quickly brush your teeth. This simple habit will limit the opportunity that plaque and bacteria have to harm your tooth enamel.
Drink Plenty of Water
Staying hydrated is always important, but sipping on water is especially vital after you consume a sweet treat. The water will rinse away food particles that might be lingering in your mouth. It can also encourage saliva production. Saliva contains essential minerals that fortify tooth enamel and reduce damage from sugary and acidic foods.
Avoid Hard Foods as Much as Possible
Sugar is the foremost danger to your teeth during the festival season, but hard foods also have the potential to harm your oral health. Things like peanut brittle, candied nuts, and candy canes could all break your teeth if you bite down on them too hard. It's best to avoid such foods altogether.
Be Cautious with Sticky and Chewy Foods
Many sugary foods, such as taffy and divinity, are also sticky — which means they can cling to your teeth for a prolonged period of time and increase your risk of developing cavities. Sticky foods can also be extra problematic for you if you wear dentures because they can destabilize your prosthetic. It's best to say no to sticky foods.
You do not have to deprive yourself of your favorite seasonal treats — but you should take precautions to protect your smile during this festive time of year.
About the Author
Dr. Bryan Griffith is a general dentist in Prestonsburg who has established a widespread reputation for providing comfortable, personalized care. He is always happy to educate his patients on how they can protect their teeth and gums on a daily basis. If you would like his help to care for your precious smile, contact our team at 606-874-9311.