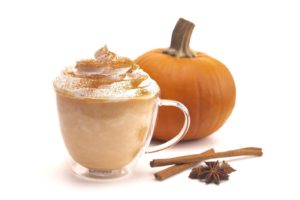 Starbucks has sold its famous pumpkins spice latte (PSL) every fall since 2003. It is one of the company's most popular seasonable beverages, with more than 350 million of the lattes having been sold in years past. Plus, the coffee giant isn't the only business that sells PSLs. Many other major chains, as well as local coffee shops, are on the pumpkin spice bandwagon. Are you among the countless individuals who love this tasty treat? Let's talk about how PSLs, as well as other hot drinks, might be affecting your teeth.
Watch Out for Sugar
A tall PSL from Starbucks has about 39 grams of sugar — that's roughly the same amount of sugar as a can of cola. In a PSL, a few grams of sugar come from the milk, but most out of it is courtesy of the whipped cream and syrup used to flavor the drink. Other popular hot drinks, whether it is an eggnog latte, or year-round espresso treats like vanilla lattes, are also guilty of containing tons of the sweet stuff.
Sugar is extremely dangerous for teeth because it combines with bacteria in the mouth to produce plaque and acid that can quickly eat away at your tooth enamel and cause decay. To help you reduce your sugar intake from hot drinks, you should:
Ask your barista if there is a sugar-free alternative
Forgo the whipped cream
Order a smaller size — many coffee shops list 12oz (tall) as their smallest size, but most of them will give you an 8oz (short) drink if you ask for it
Make sugary drinks an occasional treat rather than a daily indulgence
Hot Drinks and Dental Stains
Coffee, tea, and other hot drinks are often quite dark in color. The more you drink them, the more likely it is that their color will seep into teeth and lead to dental stains. You can minimize dental discoloration by:
Enjoying staining beverages in moderation
Using a whitening toothpaste
Sipping on water after you finish your coffee or tea
Sensitive Teeth?
Some people find that sipping on a PSL or other hot beverage causes shooting pain in their teeth. This is often due to a pre-existing dental health issue, such as an untreated cavity, thin enamel, or receding gums. Visiting your dentist for a checkup can help you discover the reason for the pain. After treatment, you may be able to once again enjoy hot drinks without discomfort.
Have you ever wondered if hot drinks are bad for your teeth? Now that you know how your favorite seasonal beverages might be affecting your smile, you can make wise choices that will protect your oral health.
About the Author
Dr. Bryan Griffith is a general dentist in Prestonsburg who has built up a reputation for providing comfortable, personalized care. He is always ready to answer his patients' questions and help them prevent and address dental health issues. If you would like his advice on how to care for your teeth this fall and winter, contact our office at 606-263-1472.