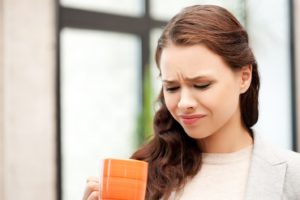 After you eat something that is bitter or pungent, it is normal for the taste to linger in your mouth for a while. However, if it has been a while since you've consumed anything that might have such an effect, and you have a nagging bad taste in your mouth, you're probably wondering what's going on. A constant bad taste can be indicative of a number of oral and/or overall health conditions. A dentist is here to discuss some possible explanations for this issue.
Poor Oral Hygiene
If you continually miss a spot in your mouth when you are brushing and flossing, bacteria can accumulate there and cause unpleasant odors — along with an unpleasant taste. For example, if you have not cleaned your tongue lately, it might have food particles and bacteria trapped between the papillae (the tiny bumps on the tongue's surface). Your local dental team would be happy to give your mouth a thorough cleaning and coach you on at-home oral hygiene techniques.
Decay or Gum Disease
Dental decay is caused when bacteria produce acids that eat away at the tooth enamel. Gum disease is an infection of the gum tissue that is also caused by bacteria. Both conditions create a haven where bacteria can breed and cause a foul taste in the mouth. Hence, if you are experiencing any oral symptoms in addition to a bad taste, such as pain a tooth or swollen gums, you require urgent dental attention. Treating such problems as soon as possible can prevent them from worsening and causing serious harm to your oral and overall health.
Hormonal Fluctuations
Pregnancy causes significant hormonal fluctuations, which can lead to a bitter or metallic taste in the mouth. It is also associated with an increased risk of gum disease. Another major source of hormonal fluctuations is menopause. Lower levels of estrogen might contribute to a constantly dry mouth or even burning mouth syndrome, both of which can be factors in having a bad taste in the mouth.
Staying in touch with your dentist throughout these times in your life can help you to cope with their associated dental risks and keep your smile as healthy as possible.
Stress and Anxiety
Many people have been experiencing heightened levels of stress during recent months. Stress can alter your sense of taste, and accompanying anxiety might contribute to dry mouth. Drinking plenty of water and working to care for your emotional health may do much to combat any unpleasant taste that is lingering in your mouth. Your dentist may also suggest that you use a rinse that is specifically designed to combat dry mouth.
A bad taste in the mouth is often an indicator that something is amiss with your oral or overall health. Seeking a dentist's guidance may help you get rid of this unpleasant symptom and deal with its root cause.
About the Author
Dr. Bryan Griffith is general and emergency dentist with more than 25 years of experience. He is well-known for providing comfortable, expert care in a welcoming environment. If you are struggling with a bad taste in your mouth, he can help you pinpoint its cause and find relief. To learn more about Dr. Griffith and his services, contact our practice at 606-874-9311.