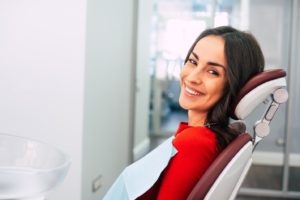 If the thought of going to the dentist makes you a little — or very — nervous, you are far from alone. Millions of people struggle with some degree of dental anxiety. Fortunately, though, there are some practical steps you can take to calm your nerves. You might even be able to permanently conquer your anxiety! Here are nine tips to get you started on the path to being a calm and collected dental patient.
Choose the Right Dentist
A dentist's reviews can tell you a lot about how they treat patients. You should find someone who has a reputation for being gentle and empathetic. They should also be able to offer sedation dentistry if you request it.
Talk About Your Concerns
Your dental team might be able to perceive that you are nervous, but they can't read your mind. Let them know what you are most worried about, and they'll do everything they can to address your concerns.
Listen to Music
Ask your dentist if you can use headphones to listen to music during your treatment. That can help you to focus less on what is happening in your mouth.
Use Hand Signals
It can be difficult to speak while your dentist is treating your teeth. If you are worried that you might need to pause your treatment at any time, show your dentist a hand signal that you will use to indicate that you need a breather.
Breathe
Nerves can make you hold your breath, and a lack of oxygen could increase your anxiety. Try some slow breathing exercises before your appointment to promote a calmer state of mind.
Ask for Local Anesthesia
Your dental team will automatically numb your mouth if a treatment may cause discomfort to your teeth or gums. However, some procedures do not normally merit the use of any numbing agents. If you are going to undergo such a treatment, don't be embarrassed if you have to ask to be numbed. Remember, your dentist wants you to be comfortable!
Be Informed
The unknown can be scary! Feel free to ask your dentist to explain procedures to you before they get started. Knowing exactly what is going on in your mouth can help you to feel more confident during your appointment.
Pick the Right Appointment Time
Many people find that visiting the dentist when they do not feel rushed helps them to stay calm. Therefore, you might decide to schedule your appointment during the middle of the day instead of early in the morning or immediately after you get off work.
Reward Yourself
A healthy smile is a reward in itself, but you should still feel free to treat yourself after your dental appointment. It will give you something to look forward to! You might indulge in a relaxing massage, buy those new shoes you've been eyeballing, or enjoy a movie night with your significant other.
Dental anxiety doesn't have to control you. The above tips can help you turn your appointments into a positive experience!
About the Author
Dr. Bryan Griffith has been a dentist for more than 25 years. He has earned a reputation for helping patients conquer their dental fears via his gentle touch and effective sedation. In fact, he is one of very few dentists in Kentucky who are authorized to offer oral conscious sedation. To learn more about Dr. Griffith and his services, contact our team at 606-874-9311.