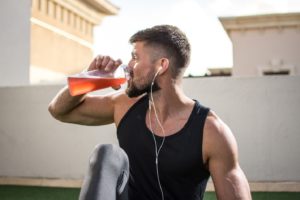 As our humid Southern summer heats up, it is important that you drink enough fluids. Whether you are strolling in a local park, going on hiking adventures, or doing projects around your house, taking in an adequate amount of liquids will help to protect you from dehydration and heat exhaustion. But just what should you be drinking? Many people turn to energy and sports drinks during the summer months. However, as an experienced preventive dentist explains, that is not a wise choice.
How Energy and Sports Drinks Affect the Teeth
Several years ago, a study published in General Dentistry provided evidence to showcase just how damaging sports and energy drinks can be on the teeth. The researchers soaked extracted molars (large back teeth) in a petri dish with several different kinds of popular sports and energy beverages for about 15 minutes, then transferred the teeth to dishes with artificial saliva. They repeated the experiment four times each day for five days.
The results? After just that short amount of time, both sports and energy drinks caused significant enamel loss on the teeth. The energy drinks had a much worse effect than the sports drinks.
Why are these beverages so bad for teeth? Not only are they full of sugar, but they also contain a high amount of citric acid, a preservative and flavor enhancer. It attacks the enamel and causes it to become weaker and thinner.
Stay Hydrated without Harming Your Smile
Sports drinks taste good, and they contain valuable electrolytes that you can lose as you sweat. However, their risks for your dental health outweigh their benefits. Here are a few tips to help you stay hydrated and take in enough electrolytes without putting your teeth in harm's way:
Drink plenty of water. Good old H20 is the best way to stay hydrated. If you get bored with plain water, you can try adding a bit of fruit to it.
Eat a balanced diet. Rather than turning to sports drinks to get your electrolytes, you can get them through food. Bananas, salted nuts, leafy greens, and dairy products are a few electrolyte-rich foods.
Snack on watermelon. Watermelon is about 92 percent water, which makes it a great way to boost your hydration. Plus, it is less acidic than many other types of fruit.
Sip on coconut water. Coconut water has been called "nature's energy drink." It contains potassium, sodium, magnesium, phosphorous, and other electrolytes. However, you should enjoy it moderation because it does contain some sugar.
Sports and energy drinks might taste good, but they can wreck your smile! There are lots of alternative ways to stay hydrated this summer.
About the Author
Dr. Bryan Griffith is the leader of our team at Brookside Dental Care. He has more than 25 years of experience in his field, and patients love him for his expert care and gentle touch. If you would like to speak to Dr. Griffith about how you can maintain your oral health, he would be pleased to talk to you. Contact our team at 606-874-9311 to arrange a time to speak to him.