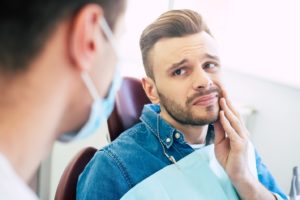 The COVID-19 crisis has affected the entire medical community, including dental offices. In fact, most practices have suspended their normal operations. But that does not mean your dentist is not ready to help you. In fact, if you find yourself facing a serious dental problem, your dentist is the first person you should contact. Let's talk about why visiting your dentist instead of the ER during a dental emergency is better for both your oral and overall health.
Reasons to Avoid the ER if Possible
The physicians, nurses, and other medical personnel who work in hospitals are not trained in dentistry. They can help you if you have severe lacerations in or around your mouth, or if you have broken facial bones. However, when it comes to repairing cavities, splinting a tooth back into place, or performing root canal therapy, they do not have the training necessary to provide adequate care. Only a dentist can properly address dental health problems.
Also, remember that many emergency rooms are very busy, especially in metropolitan areas that have a high rate of COVID-19 cases. Your dental issue may be viewed as a low priority. Hence, it is possible that you will have to wait for hours before you get any relief for your pain. Depending on the circumstances, you might even be sent home without receiving any care at all.
A third reason to avoid the ER if possible is that there may be quite a few people there. The more people you interact with, the greater the risk that the coronavirus or other contagions will take the opportunity to spread.
Visiting Your Dentist Is Better
When your dental emergency begins, contact your dentist. If no one picks up the phone, do not hesitate to leave a voicemail. In your message, describe your situation in as much detail as possible. Most dentists are closely monitoring communication channels, so you can expect someone to get back to you ASAP. They may tell you to come to the office that day, or maybe the next day, to get treatment. They will also offer you useful, expert tips on how to manage your situation until your appointment. You will receive prompt, personal attention from someone who specializes in oral health.
Furthermore, your risk of contracting an illness at your dentist's office is extremely low. Dentists maintain strict sterilization protocols at all times to ensure their patients' safety. Also, there is much less traffic in dentists' offices than in hospital emergency rooms. Limiting your contact with other people lowers your risk of contamination.
We are all grateful to the hospital staff members who are at the forefront of the battle against COVID-19 — but that are not whom you should rely on during a dental emergency. Call your dentist instead!
About the Author
Dr. Bryan Griffith is a general and emergency dentist in Prestonsburg. He focuses on providing a comfortable experience for patients, and he is often able to see emergency patients on the same day they call. If you are in urgent need of dental care, or if you would like to learn how Dr. Griffith and his staff are helping to slow the spread of COVID-19, contact us at 606-874-9311.