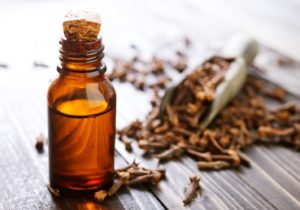 If your tooth is hurting, you should get in touch with your dentist as soon as possible. They will give you guidance on how to care for your tooth, and they might even urge you to visit the office for an emergency appointment. But what can you do to ease your discomfort in the meantime if you run out of pain relievers? Instead of making a trip to the grocery store, you can try the following at-home remedies instead.
Clove Oil
Cloves contain eugenol, which is a natural anesthetic. Simply place two drops of clove oil on a cotton ball, and hold it directly on your tooth until the pain dulls down. Be careful not to put the oil on your gums because it might worsen your pain.
Ginger-Cayenne Paste
Both ginger and cayenne have a reputation for being effective painkillers. Mix equal parts of the spice and sprinkle in some water until it becomes a paste. Roll a cotton ball on the paste, and then apply it to your tooth until the pain fades.
Saltwater
Dissolve a teaspoon of salt in cup of hot water. Swish with the mixture for about 30 seconds, spit, and repeat until the cup is gone. Saltwater can reduce painful swelling and cleanse the area around the aching tooth.
Peppermint
Similar to clove oil, peppermint has numbing properties. You can apply a few drops of peppermint oil to the tooth. Alternatively, you can make tea by steeping a teaspoon of dry peppermint leaves in one cup of hot water for about 20 minutes. When the tea cools down, swish it around your mouth. Then, you can either spit it out or swallow it.
Black Tea
Black tea contains tannins that may help to relieve swelling. To try out this home remedy, place a warm, wet teabag against the tooth until you feel some relief.
Hydrogen Peroxide.
Hydrogen peroxide can kill bacteria and provide a bit of pain relief. Just swish with a mouthful of 3% hydrogen peroxide, then spit it out. Rinse with plain water to get any lingering peroxide out of your mouth.
Ice
Ice can reduce swelling and temporarily numb your nerves. Simply wrap an ice pack in a towel and apply it to your cheek next to your aching tooth for about 15 minutes at a time.
Chewing Gum
If your toothache is caused by a broken tooth or lost filling, placing chewed, sugar-free gum on the area might help. The gum can provide a measure of protection for the tooth so outside substances are less likely to irritate it.
Acupressure
Apply pressure to the space between your thumb and pointer finger for about two minutes. This may release pain-killing endorphins. (Do not try this if you are pregnant.)
Myrrh
Myrrh is an astringent that can kill bacteria and fight inflammation. Simmer a teaspoon of powdered myrrh in two cups of water for about 30 minutes. After it cools, add a teaspoon of the mixture to a half cup of water and use it to rinse your mouth.
The above at-home remedies will not cure your toothache, but they might take the edge off your pain until you can visit your dentist.
About the Author
Dr. Bryan Griffith is a dentist in Prestonsburg who provides emergency, preventive, and restorative treatments in a comfortable environment. He is ready to help you find long-lasting relief from tooth pain! To learn more about him or to request an emergency appointment, contact us at 606-874-9311.