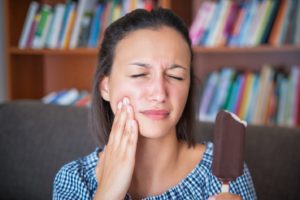 You should be able to enjoy a hot cup of coffee or a frozen treat without worrying that you'll experience discomfort. Unfortunately, however, countless individuals have sensitive teeth that react badly to hot and cold substances. If you are experiencing dental sensitivity, you'll be interested in reading the material that follows. We'll discuss possible reasons for your sensitive teeth and give you advice on how to put an end to the pain.
The Basics of Tooth Anatomy
To understand dental sensitivity, you should have a basic grasp of a tooth's anatomy. The outermost layer of a tooth is the enamel, which is an extremely hard substance that covers the entire portion of the tooth that is above the gum line. Beneath the enamel is the dentin, which contains tubules that connect to the nerve. The nerve is inside the tooth's innermost layer, the pulp.
When the enamel becomes worn thin, or the gums recede, the tubules in the dentin feel the hot and cold substances that contact the tooth. Then, the tooth's nerve sends a pain signal to the brain.
Reasons for Sensitive Teeth
There are a number of reasons why your teeth's sensitive inner layers might be extra vulnerable to stimuli from hot and cold substances:
You have naturally thin tooth enamel, or it has become thin due to overconsumption of sugary or acidic substances.
You have a cavity.
Your gums have receded and exposed your tooth roots, which do not have any enamel to protect them.
You have an infection inside a tooth that is irritating its nerve.
You recently underwent dental treatment (sensitivity after dental treatment usually wears off within a few days).
What to Do About Sensitive Teeth
It is important that you visit your dentist to talk about your dental sensitivity. After they examine your teeth and talk to you about the nature of your symptoms, they'll diagnose the reason for your discomfort. Then, they'll recommend a course of action. For example, they might suggest that you cut back on sugar and acid in your diet and begin to use a sensitivity-reducing toothpaste.
However, it is possible that you will require more extensive treatment. If your gums have receded due to gum disease, you may need periodontal therapy. Or, if only one of your teeth is extremely sensitive, that is a major sign of an infection. Such an infection requires care from a skilled emergency dentist; you may need root canal therapy or perhaps even an extraction.
Are you struggling with sensitive teeth? Seeking your dentist's advice is the best way to find relief!
About the Author
Dr. Bryan Griffith is a graduate of the University of Kentucky College of Dentistry. In the many years since he earned his degree, he has gained a reputation for providing excellent service and a comfortable experience to patients. He offers both general and emergency care to patients in the Prestonsburg area. If you would like to talk to Dr. Griffith about sensitive teeth or any other oral health issues, contact us at 606-874-9311.